At approximately 3:48 PM, lockdown was lifted. We will now begin dismissal of both Car Riders and any bus riders who were held at WMS as well as WMS Bus Riders. Thank you for your cooperation.

Good Afternoon! Due to an escaped inmate, WMS was placed on lockdown at 2:55 PM. Students will be held until administration has been notified that it is safe for them to leave. Buses have been unloaded and all students are safe. Bus riders will remain on campus until it is lifted and will arrive home later than usual. Thank you!

Good Afternoon, WMS Students & Parents! Just a reminder, There will be no Afterschool program on Wednesday. Thursday, April 1st will be an E-Learning Day for all students and teachers will work from home. Schools will be closed on Friday, April 2nd and next week for Spring Break. Students will return on Monday, April 12th. We hope you enjoy your break! Stay safe!
Good morning parents, there is a correction for make-up MAP testing. March 26, 2021 is incorrect for the first make-up day. We will not be in school that day. The two make-up days will be March 29th and March 30th starting at 8:30 a.m. The following dates for MAP were correct on the message yesterday: MATH (all grade levels) March 24th I-Tech testing will be in the cafeteria from 8:30 am until 11:00 am READING (all grade levels) March 25th I-Tech testing will be in the cafeteria from 8:30 am until 11:00 am I apologize for the mistake. Have a great day! Principal Jackson
Good afternoon parents, MAP testing will take place this week. MATH (all grade levels) March 24th I-Tech testing will be in the cafeteria from 8:30 am until 11:00 am READING (all grade levels) March 25th I-Tech testing will be in the cafeteria from 8:30 am until 11:00 am Make-up testing------- March 26th and 29th (in the 8th grade computer lab) Please make sure your child gets plenty of rest and is on time to start their tests on those two days. Thank you and have a great evening! Sincerely, Principal Jackson

Good Afternoon! Due to inclement weather and an e-learning day, report cards will now be sent home on Friday, March 19th. iTech Parents may pick up their student's report cards from 11-2 Friday, in the main office of WMS. Thank you!
Good afternoon Parents! Due to the high threats of severe weather, tomorrow will be an e-learning day. Your child will have to complete all assignments in google classroom for each teacher. Please make sure your child signs in by 8:00 a.m. to complete all assignments for the day. Thank you! Have a blessed day! Principal Jackson

Good Evening! We will begin the Shuttle Service to the Abbeville Youth Center on Tuesday, March 16th. The bus will only be able to accommodate 20 WMS Students due to COVID Restrictions. Any student wishing to ride the bus will need to complete a School Bus Pick-Up and Drop-Off Designation Form in the Main Office of WMS prior to receiving transportation. Have a good night!

Good Morning! FRIDAY is the LAST DAY to turn in fundraiser orders and money! Also, if your student received a letter regarding the After School Program, we need those forms returned by TOMORROW! Thank you and have a GREAT day!
Good morning Parents, we will start our afterschool program next week. A letter will be sent home with students who will qualify for the afterschool program. Please sign and return tomorrow. We need to get an accurate count for snacks and bus transportation. Also, please help your child with their fundraiser by taking the packet to work, church or to family members. Great prizes can be won and it will help us provide fun and exciting things for our students in the future. Thanks for all you do to help us educate your child. If you have any questions or concerns, please feel free to contact me by email or by phone. Have a great day!

Good Morning! This is just a reminder that our American Made Fundraiser is still going on! We will be holding the first and second drawings at the end of the school day TODAY! If you (or your student) have sold $50-$100 in merchandise, please be sure to bring your coupon, order form and money collected so far by the main office before 2:00 today. We will check everything off and return your order form to you so that you can continue selling. Our next drawing will be TOMORROW for students having sold $150 in merchandise. We appreciate everyone's participation! Thank you and Go Wildcats!

Good Afternoon! Baseball & Soccer practices for today have been cancelled. Softball will still practice at Westwood Elementary at 4:00. NO SCHOOL for students tomorrow and Monday (February 22nd) will be an e-learning day.

Dear Parents, Friends and Students: Today, our school is starting our Spring Fundraising program with American Fundraising Group. To get started check out the kick-off video at
www.AFGfundraising.com\orizekickoff
. Our sale will begin today and end in two weeks. Please be sure to collect money as you sell. Checks will need to be made payable to Wright Middle School. Thank you for your support!

Good Afternoon! There will be no JV or C-Team Baseball Practice today. Practice will resume after school tomorrow! Softball practice will begin at 3:45 today in the WMS Gym. JV Soccer Practice will begin at 3:30 at the Abbeville Civic Center and will end at 4:30. Track Practice will not resume until February 22nd. Thank you and have a great afternoon!

Good Afternoon Parents and Students. Wright Middle School is placing final yearbook orders. February 19, 2021 is the last day to guarantee you get one. Order online at Jostens.com or pay at school. The cost is $45. A deposit of $10 will secure your copy. Also, we will be beginning a school-wide fundraiser on Wednesday so be on the lookout for that information to come! C-Team Baseball will practice in the WMS gym right after school today. We hope you have a great week!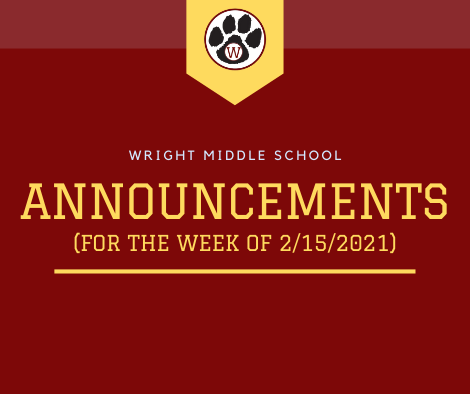 Good morning ITECH parents, progress reports for all ITECH students can be picked up today from 1:00 p.m. to 3:30 p.m. today. If you are unable to pick up your child's progress report today, please make arrangements to come by the school on Friday from 10 a.m. to 12:00 p.m.. Thank you and have a wonderful day! Go Wildcats!

FEBRUARY 19th is the LAST CHANCE TO GUARANTEE A 2021 YEARBOOK. A yearbook is $45. A deposit of just $10 can hold your student a yearbook, with the final payment due before May 1. The school will not be ordering a lot of extra yearbooks to sell at the end of the year, so you must purchase one now.
Good Afternoon, WMS Parents! Due to a power outage, we will be dismissing at 2:00 today. Bus riders may arrive home 45 minutes to an hour earlier than usual. Thank you!

Good Afternoon, students and parents. There will be no golf practice this afternoon. Thank you and have a great day!

Good Afternoon WMS Students and Parents! We have just a couple of announcements for you this afternoon. Both Boys and Girls Basketball Games for Thursday have been CANCELLED. Boys and Girls Basketball Practice is also CANCELLED FOR TODAY. Practice will resume TOMORROW. Tomorrow is the deadline for applications/registration fees for the Miss WMS Pageant. The Miss WMS Pageant will be held on February 27th. All fees and registration packets need to be turned in to Mrs. McCaslan in the main office by 3:00 TOMORROW. The deadline for ordering yearbooks is February 18th. A $10 deposit must be paid in order to secure your student's yearbook. 8th Grade Recognition Ad orders must be placed by February 5th. For more information, you may contact Mrs. Holley at
sholley@acsdsc.org
. C-Team Baseball tryouts will be February 3rd and 4th from 3:00-4:30. If your student is interested in running track, there is a sign up sheet in the main office. Students must have a current Sports Physical/COVID waiver PRIOR to trying out for any sport. iTech Parents, if you have not picked up your student's report card/2nd semester supplies, you may do so in the main office from 8-3:00 Monday-Friday.