In an effort to lower the risk of COVID-19 transmission and to keep our schools open and operating as safely as possible, The SC State Department of Education will again enforce the CDC's Order requiring the use of face coverings by students and staff on state owned and operated school buses. Effective Monday, August 30th, students and staff members traveling by bus, must wear a face covering throughout the duration of their time on the bus. Also, due to these state mandated mask requirements on buses and CDC recommendations of 67% bus capacity, students will ONLY be picked up and dropped off at their primary bus stop. No temporary changes adding additional pick-up and drop-off locations will be accommodated. Thank you, have a great weekend & GO WILDCATS!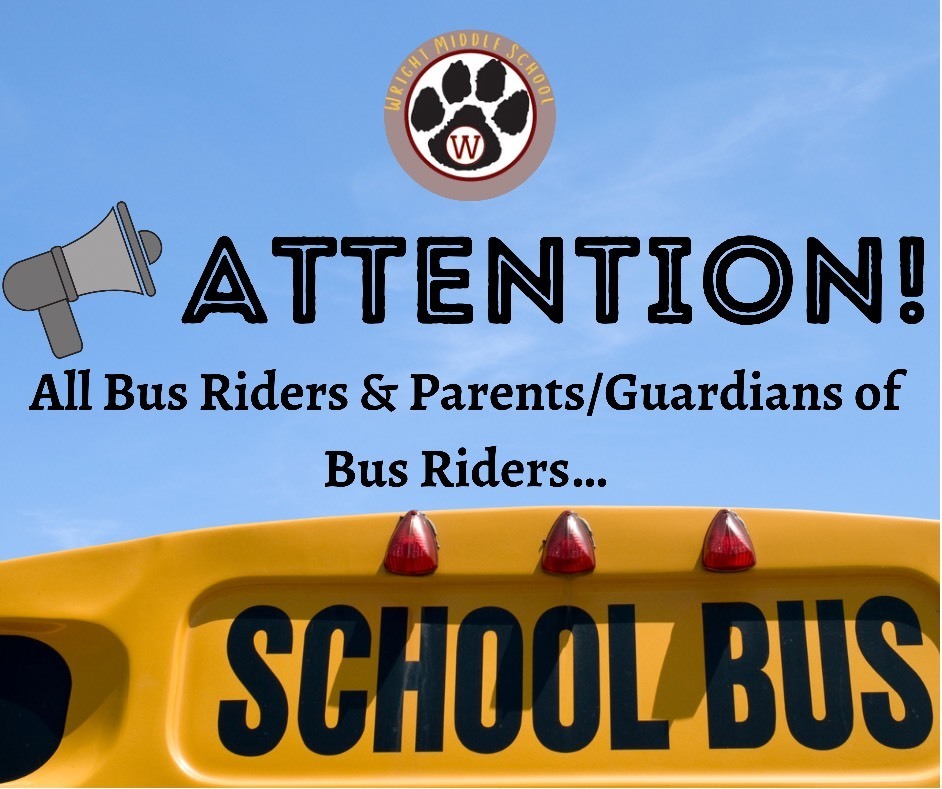 Good Evening Parents. We have had a wonderful start to the 21-22 school year thus far at Wright Middle School. We are getting close to distributing all chromebooks to students. If you have not paid for your child's $25 technology fee, please be sure to do so as soon as possible. Students may pay their technology fee in the Media Center with Mrs. Hawthorne. All technology fees must be paid in order for students to receive their chromebook. If you need to set up a payment plan please let Mrs. Hawthorne know and we will accommodate you. Thank you. Have a Great Evening and Go Wildcats!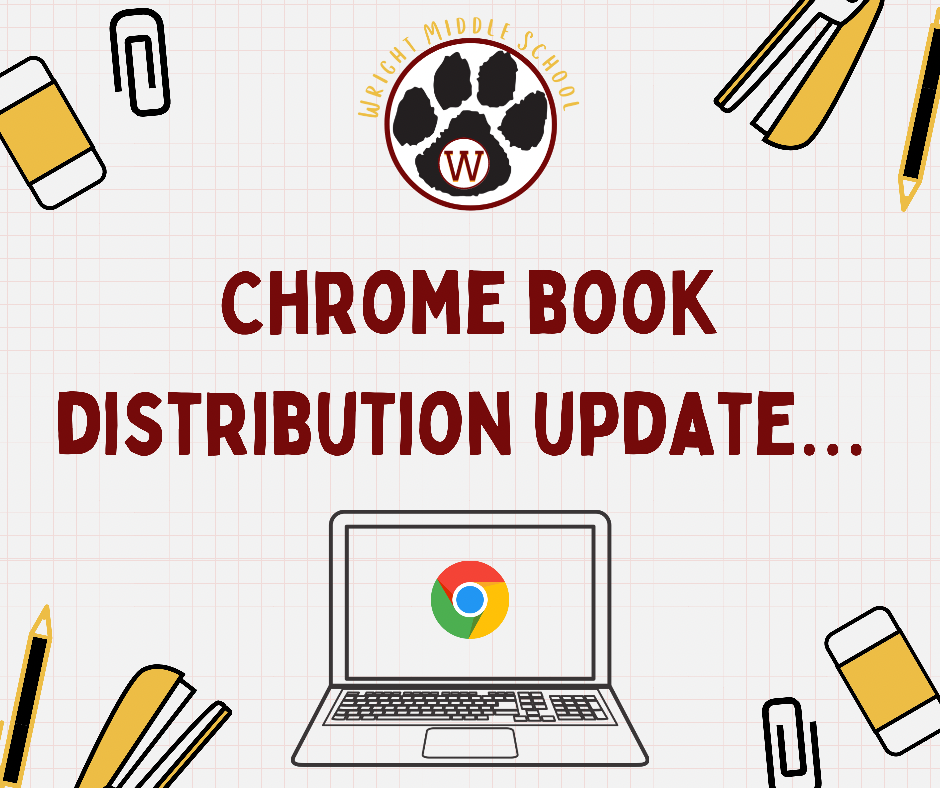 Good Evening WMS Parents. Individual Score Reports from Spring Standardized Testing will be sent home with students tomorrow. Please make sure that you look over these scores with your student. Have a Good Evening & Go Wildcats!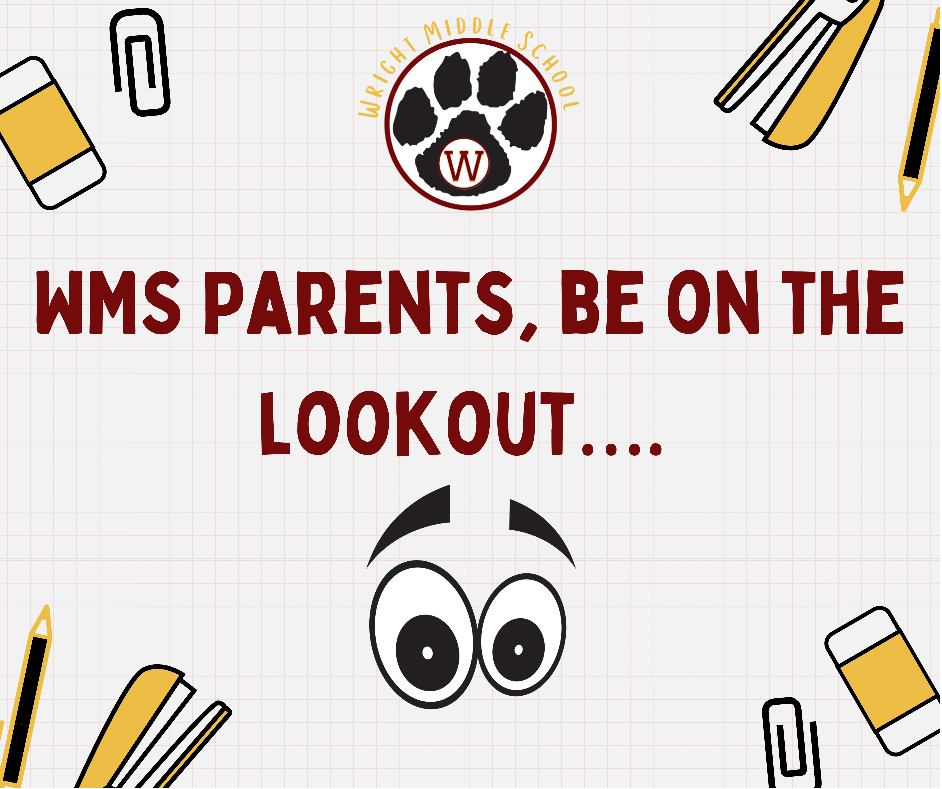 Good Afternoon, Students and Parents! We just wanted to let you all know that Football Practice for today is still on and will be held in the WMS Gym immediately after school. Thank you and Go Wildcats!

Good evening parents and students and welcome to the 2021-22 school year. We are very excited to see you tomorrow although the Delta variant appears to be knocking on our doors. With that being said, I want to reassure you that we will do everything possible to keep our students and staff as safe as possible as we work through these issues together. As you know we are returning to in-class instruction with no virtual option. If the situation takes a turn for the worse, we will re-evaluate as we are literally monitoring this daily. As a reminder we are doing the following: after speaking with area medical experts we will not allow parents/guests inside the schools until further notice to help curb potential spreading of the virus; maintaining the 3' social distancing requirement inside the school and on playgrounds; asking teachers to utilize the desk shields; no group work at this time unless the social distancing guidelines are followed; we encourage masks to be worn but cannot mandate them nor the vaccine at this time; when students report to school we ask them to maintain social distancing and not to mass congregate; we will continue spraying each school or hotspots with electrostatic sprayers; we encourage everyone to continue exercising good hygiene; we ask that anyone exposed to someone with the virus to wear a mask until you receive a negative test; there will be no live steaming instruction due to liability issues but our teachers and parents should work together for students to make up and master their work. We will issue Chromebooks to all students as soon as possible in case we need to go to an e-learning platform. Thank you for your support and patience during this trying time and lets all continue working together to make ACSD the best it can be and the best year we have experienced. See you tomorrow and have a great night.

Good evening WMS Students & Parents. We wanted to take a moment to share some information with you as we anticipate our first day tomorrow. The doors will open for drop off to begin at 7:20am. Car riders, please look for Mr. Burdette and Coach Smith out front, and be sure to pull all the way down toward the cafeteria end of the building for drop off. It may be raining, but we have new awnings out front to help keep us covered. All students will be housed in the cafeteria until 7:30am. At that point, they will be released to the hallways outside their homeroom classroom to read until they go into the classroom. After 8:05, students will be considered tardy. Any students bringing fee money will need to notify their homeroom teachers first thing in the morning, and they will be allowed to bring that to the front office. Schedules will be available to all students in their homeroom class. If they are unsure where to go for homeroom, there will be rosters posted on classroom doors and teachers in the halls to assist. We will begin dismissal at 2:50. We are looking forward to an exciting first day. Thank You and Go Wildcats!

Good Evening, WMS Students & Parents! Students, we hope you are enjoying your LAST full week of Summer Break and CAN'T WAIT to see you all next week! We just wanted to share a couple of IMPORTANT ANNOUNCEMENTS for this week. We will be having Meet the Teacher & Supply Drop Off Night this Wednesday, August 11th from 4:30-6:30. We look forward to seeing you there! Also, we just wanted to let you all know that we are in the process of having new carpet put in the front office of WMS. All office personnel have been temporarily relocated for the duration of this process. Therefore, the front door bell has been temporarily disconnected and you may not be able to reach us by phone. If you need us, please email Mr. Burdette (Principal) at
bburdette@acsdsc.org
or Mrs. McCaslan (Secretary) at
bmccaslan@acsdsc.org
. We apologize for the inconvenience and appreciate your understanding! Thank You and Go Wildcats!

Good Evening, WMS Students and Parents! We will be having registration TOMORROW from 8:30-2:30. Once you have completed the registration process and paid all fines and fees, you will receive your student's schedule. If you registered your student online, you may swing by the school anytime between 8:30 and 2:30 to pick up their schedule! Thank You & Go Wildcats!

Good Evening WMS Students and Parents! Football Conditioning will begin on Monday, August 2nd at 5:30 on the practice field beside WMS. Any rising 7th or 8th Grade boy wishing to play football this year should be there with their sports physical in hand. You may NOT condition without a Sports Physical! Thank you and Go Wildcats!

Good Morning WMS Students & Parents! We hope everyone's summer is off to a GREAT start! Just a reminder for any rising 7th & 8th Grade Boys who may be interested in playing WMS Football: Be sure to go ahead and call the Abbeville Area Healthcare Center at (864)366-9681 to schedule an appointment for a Sports Physical. You MUST have a current/updated Sports Physical on file to be able to participate in ANY type of conditioning/running.
Good morning parents and students, I know everyone is enjoying your summer break. We are closing out this school year with textbooks and Chromebooks. If your child has not brought back his/her hard back textbooks or Chromebook, please do so by Wednesday. We will have to charge for materials not returned. If I do not see you, have a wonderful summer! Principal Jackson

IMPORTANT ANNOUNCEMENT! We ONLY have Report Cards for iTech Students in the office for pick-up today. All Report Cards for Face to Face Students not at school today will be available for pick-up TOMORROW from 9:00-2:00. Please be sure to turn in any textbooks you may still have when picking up your student's Report Card. Thank you!

Good Morning, WMS Students & Parents! Report Cards will be available for pick-up in the Main Office today from 10:00-12:00. If you are unable to pick-up today, we will have them in the main office tomorrow from 9:00-2:00. Have a GREAT SUMMER & Go Wildcats!

Good Morning WMS Students & Parents! We are excited about our Extravaganza night tonight at WMS. Please understand that all students must be accompanied by an adult. Also, due to large numbers, only those parents/students who sent back the letter to RSVP will be able to attend. Thank you and have a great day!
Good afternoon Parents, your child brought home a letter to be sign for Family Extravaganza Night! Check I will attend or I will not attend. Please sign and return tomorrow morning with your child. ITECH parents and students can access the letter in their teacher's Google Classroom. Fill it out and submit it by 11:59. Your response will be recorded. I look forward to seeing you tomorrow at 5:30pm. Have a wonderful night!
Good morning Parents and Students, important end of year dates were sent home about a week ago. This week is an important week. We will have our family extravaganza night on Tuesday, May 25, 2021 from 5:30-7:30. A letter will be sent home to be returned Tuesday morning. Please indicate whether you will attend with your child/children and how many others will attend with you. Dinner will be provided, chorus and band will perform, and activities are planned for parents and children. We will have outdoor fun activities for all children. Cotton candy, snow cones, drinks, candy, and more will be available for purchase. Please come join us to close out the school year with a fun celebration. We look forward to seeing many of you Tuesday night. May 27, 2021 is awards day and 8th grade 🎓. Times were previously posted. All 8th grade students and their family are invited. Only the 6th and 7th grade award recipients and their family are invited to the 6th and 7th grade award ceremony. Thanking you in advance for your participation and support. Principal Jackson

-Thursday will be the last day students will be able to vote for the Royal court nominees -Thursday will also be the LAST day to buy your dance ticket at the pre-sale price. Tickets will be sold outside of the cafeteria FIRST THING IN THE MORNING ONLY. iTech Students may purchase their tickets UPON ARRIVAL ONLY for SC Ready Testing. Tickets will NOT be available in the Main Office and all ticket sales will be put on hold until Friday at 6:00. -Students it is important to know that in order to go to the dance, you must be at school Friday. You will not be allowed to stay at school until the time of the dance. You must leave and return @ 6. -Yearbooks will be distributed Friday at lunch so any unpaid balances will need to be paid by then in order for students to pick them up. -iTech Students will receive their Yearbooks on 5/27 when they turn in their Chromebooks. -SC Ready Testing for iTech Students will be tomorrow morning. Students should report to school before 8:30 with their Chromebook fully charged. Thank you and have a GREAT DAY!

Good Afternoon WMS Parents...If you have not started the registration process for the 2021-2022 School Year, your student should have received a RED letter today with all of the information that you will need to do so. Online Registration has officially launched therefore you may follow the instructions on the letter and register your student now. If your student did not receive a letter and you have not started or submitted the registration forms, please call WMS @ 864-366-5998 to be sure that we have the correct e-mail on file for you. iTech Students who have not started registration will be able to pick their letter up after testing. Thank you and have a Great Day!

The 2020-2021 WMS Dance Committee is hosting the first ever "Glowing" Dance. It will be held at the school on Friday, May 21st from 6pm-8pm. Ticket pre-sales will be available Monday, May 17th through Thursday, May 20th. You may purchase your ticket in the mornings as you leave the cafeteria. There will be a general admission ticket available for $8 or a VIP Ticket for $10. The Royal Court Nominees need your votes. Remember every 25 cents put in their jug will count as a vote so make sure you VOTE! VOTE! VOTE! The Royal Court Nominee (regardless of grade) that raises the most money will receive a very unique award, never offered before…The Imperial Glow Getter. 8th Grade Nominees for "Illuminating King and Queen" are Isaiah Coleman, Altavious Patterson, Carter Eby, Genna Brown, Lamaria Walker & Kha'Lajah Jackson. 7th grade nominees for "Glimmering" Prince and Princess are Nykeis Brown, Cole Driggers, Kamyron Jones, Nivea Lomax, Lillie Stone & Zarria Belton. 6th grade nominees for "Dazzling" Duke and Duchess are Brice Williams, MiDarius Burton, Kayden Payton, Cate Dunlap, Kimora Evans & Kalin Foggie.

Good Afternoon, WMS Students and Parents! We just wanted to remind you all that The 2020-2021 Dance Committee is hosting the first ever "Glowing" dance. It will be held at WMS on Friday, May 21st from 6pm-8pm. Ticket pre-sales will begin Monday, May 17th through Thursday, May 20th. You may purchase your ticket in the morning as you leave the cafeteria. General admission tickets are available for $8 or you may purchase a VIP Ticket for $10. Each VIP Ticket will include admission, a free goodie bag that glows, and a free chocolate dipped pretzel. Tickets will also be available at the door for $10 (General Admission) and $12 (VIP). This is a dance you don't want to miss so go ahead and get your tickets early! In addition to a LIVE DJ, there will also be food, drinks, & raffle tickets to purchase as well as a PHOTO BOOTH to capture GREAT MEMORIES with your friends! School Dress Code will apply and the student who "glows the most" will be awarded a special prize! We can't wait to see you there!