Good Evening! This call is to inform you that WMS will be conducting an intruder drill tomorrow morning on Thursday, March 23, 2023. This drill has been planned in coordination with school, district, and local law enforcement officials, and is vital to ensuring the safety of all students, faculty, and staff of our school. During the drill, no one will be allowed to enter or exit the building. Should you have any questions or concerns regarding this drill, please feel free to contact us. Thank you and as always, Go Wildcats!

Good morning Wright Middle School parents and students. As you all know, there is a threat for severe wind and weather later on today. To ensure that bus routes will be completed before the winds arrive, we will start dismissing bus riders 15 minutes early today. Car riders will dismiss on a normal schedule. All after school events are cancelled for today. Notification will be sent should any other changes occur. Thanks and Go Wildcats!

The safety of our students is always the top priority for the Abbeville County School District. Based on the most recent information from the National Weather Service, Abbeville County School District will be operating on a normal schedule tomorrow. However, severe weather is expected tomorrow afternoon. The arrival time and severity of the system could warrant an early dismissal. If guidance from the National Weather Service indicates that the system will arrive earlier than the current forecast, then we could dismiss students from schools early. We would provide you with as much advance notice as possible. We will monitor the system throughout the morning hours to make a determination on dismissing early or continuing to operate on a normal schedule. Thank you and as always, Go Wildcats!

💼 Just a reminder tomorrow is job shadowing day pre-approved students. Students should only report if Mrs. McGaha returned forms to you that were signed by both parent and the supervisor of the business. Students should not report if approval from the business was not received prior to today. 📞 Also, parents if your student is shadowing tomorrow you will receive a call in the morning. This call when notify you that your child was marked absent. However, these will be marked excused once students turn in their completed job shadowing packets after intersession. 🐾 We are excited for our this great opportunity for our students and hope they have a great day! Thank you and Go Wildcats!

Good Morning! We have just a couple of announcements we would like to share with you this morning... The after school program will ONLY meet on Tuesday of this week. There will be NO AFTER SCHOOL program on Thursday, February 16th. There will be a parent meeting tonight at 5:30 in the AHS Auditorium for ALL SPRING SPORT ATHLETES excluding WMS Soccer! All athletes and their parent(s) MUST be present! If your student participated in WMS Soccer Try Outs, please ask them for the information packet that they received on Friday. There will be a very brief parent meeting after practice tomorrow that should end no later than 5:00. There will be NO SCHOOL for students on Friday, February 17th and next week is Intersession Week (February 20-24). Students will return to school on February 27th. Thank you and Go Wildcats!

Beta Club Parents, this is a quick reminder that our February Beta Club meeting will be held today after school. Please arrange to have your child picked up at the front of the school at 4:15 today.

Good Evening, WMS Parents and Students! Job shadow packets went home today. Please ask your child about their packet. The packets are due back at the school on Friday, February 10th. We are excited to be able to offer this great opportunity to our students this year and hope they will make the most of it! 8th grade parents: IGP meetings will begin after the February intersession. You will be receiving an email by the end of next week to schedule your meeting. Thank You and as always, Go Wildcats!

Due to the potential threat of severe weather, all WMS after school activities for Today, Thursday, January 12th, have been CANCELLED. This includes all after school programs, athletic practices, conditioning, and games for this evening. Stay safe and as always, Go Wildcats!

WMS Yearbook Information & Weekly Athletic Announcements...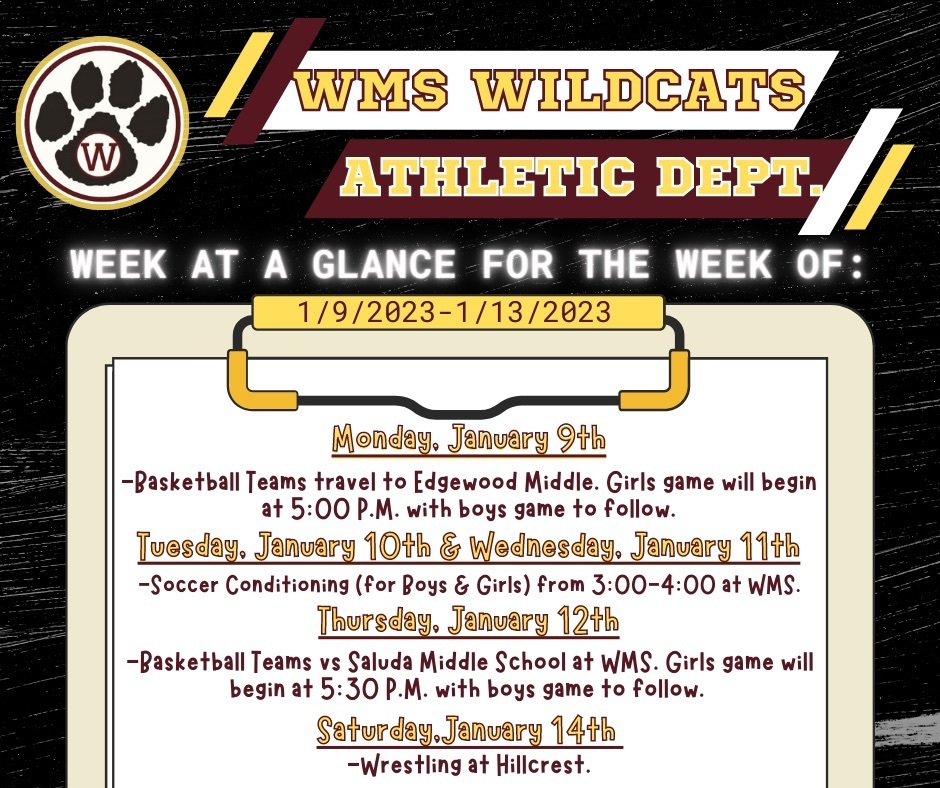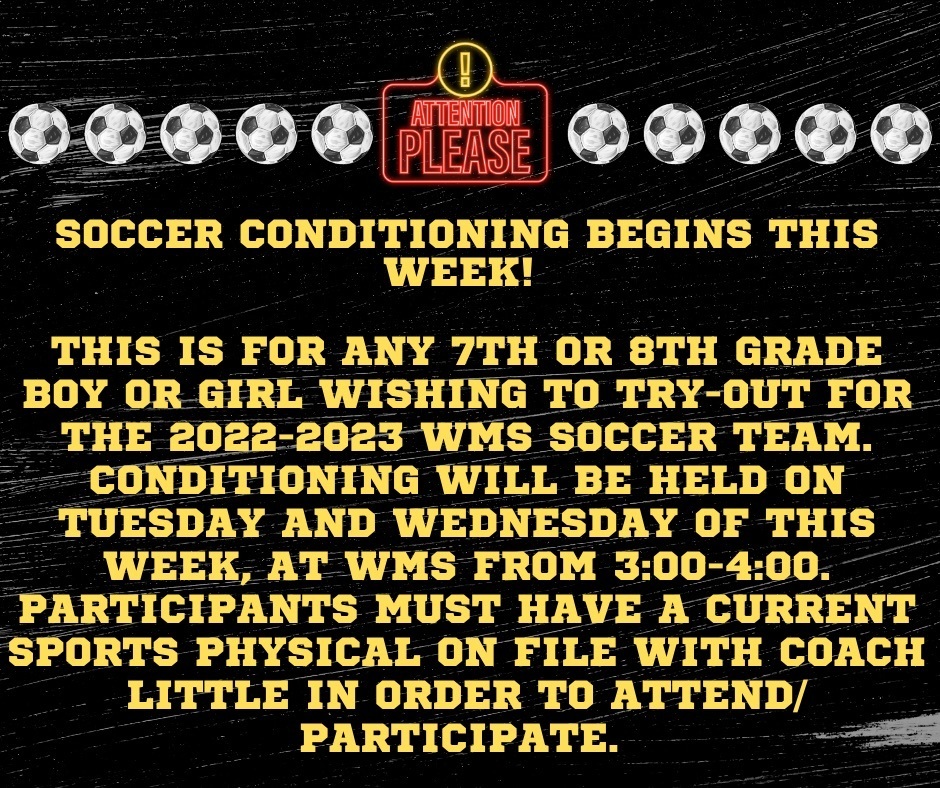 WMS Weekly Announcements Continued...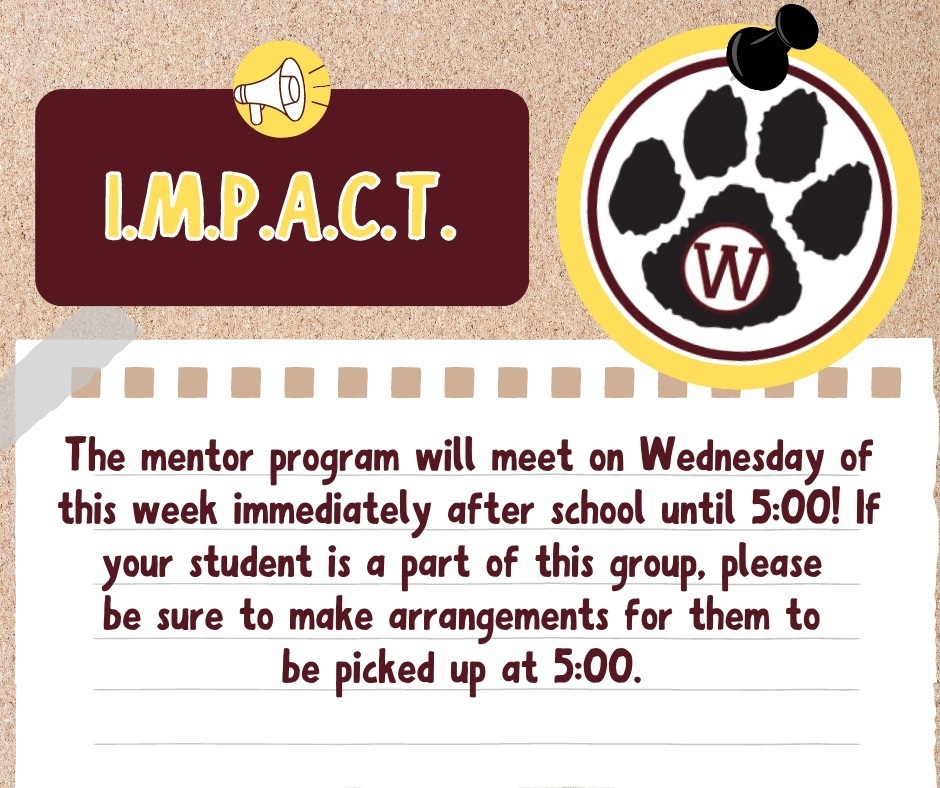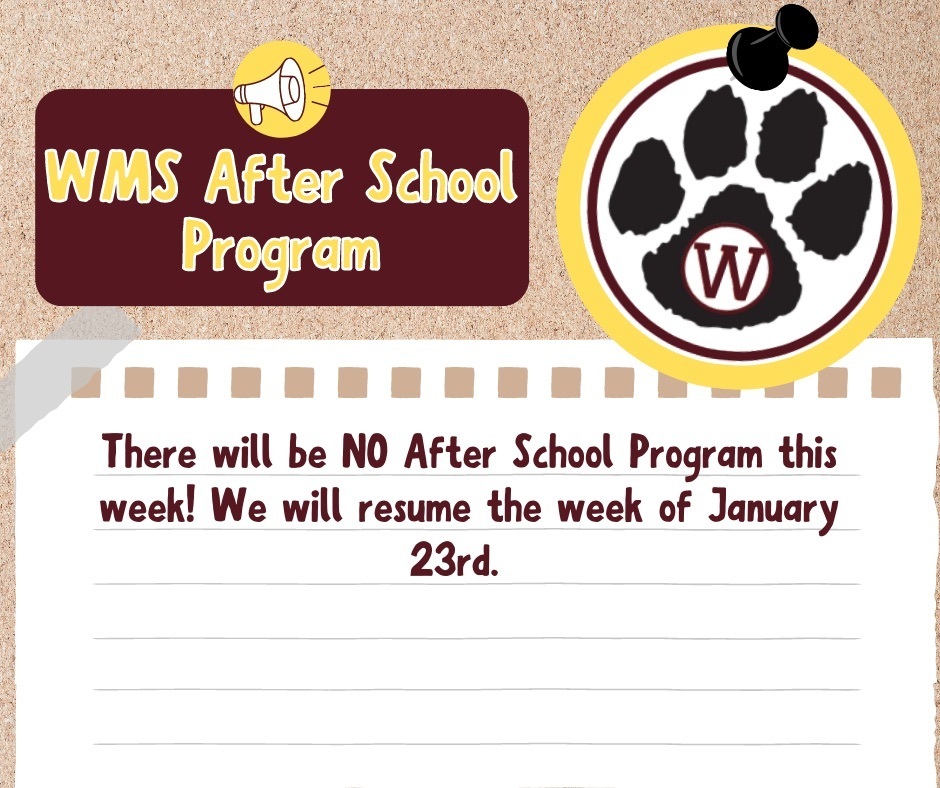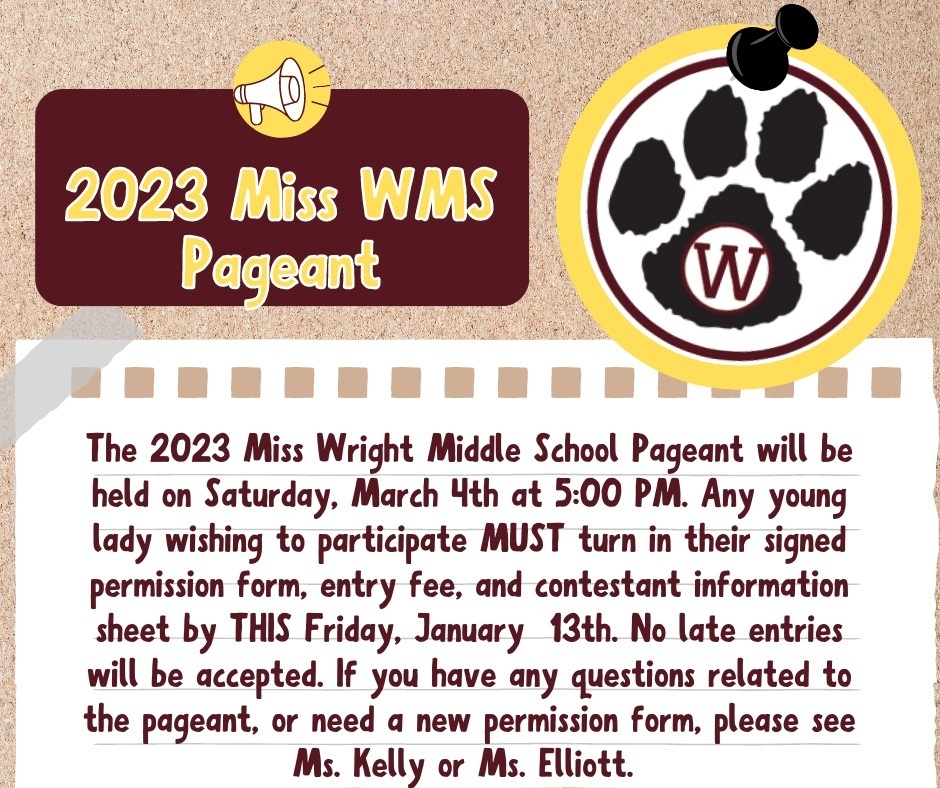 WMS Announcements for the Week of 1/9-1/13...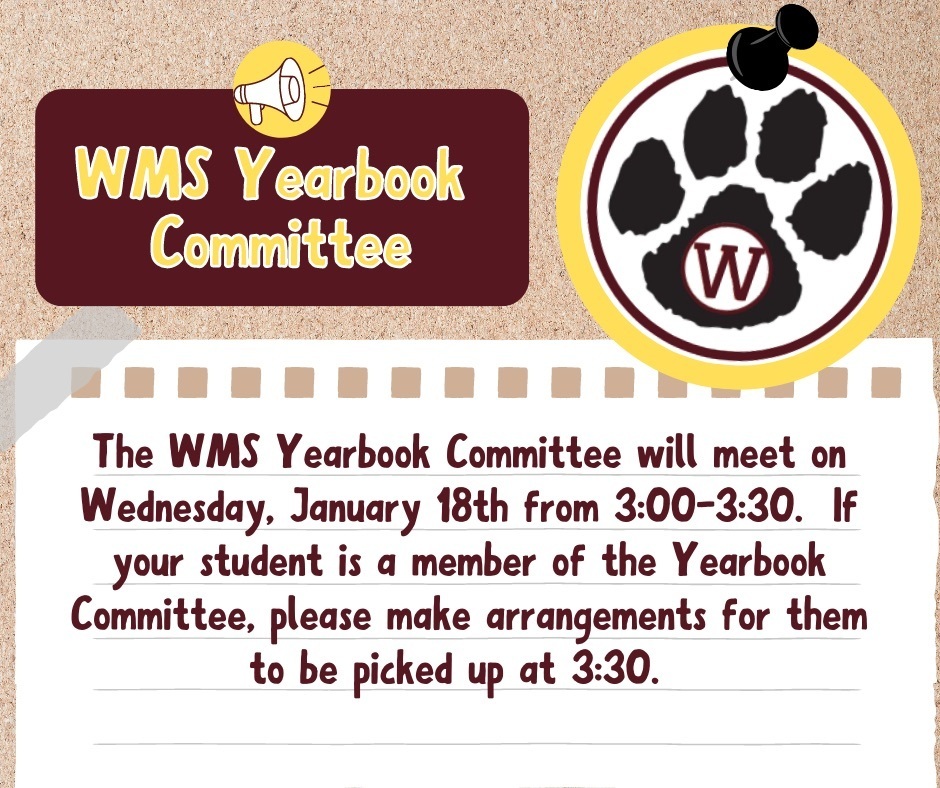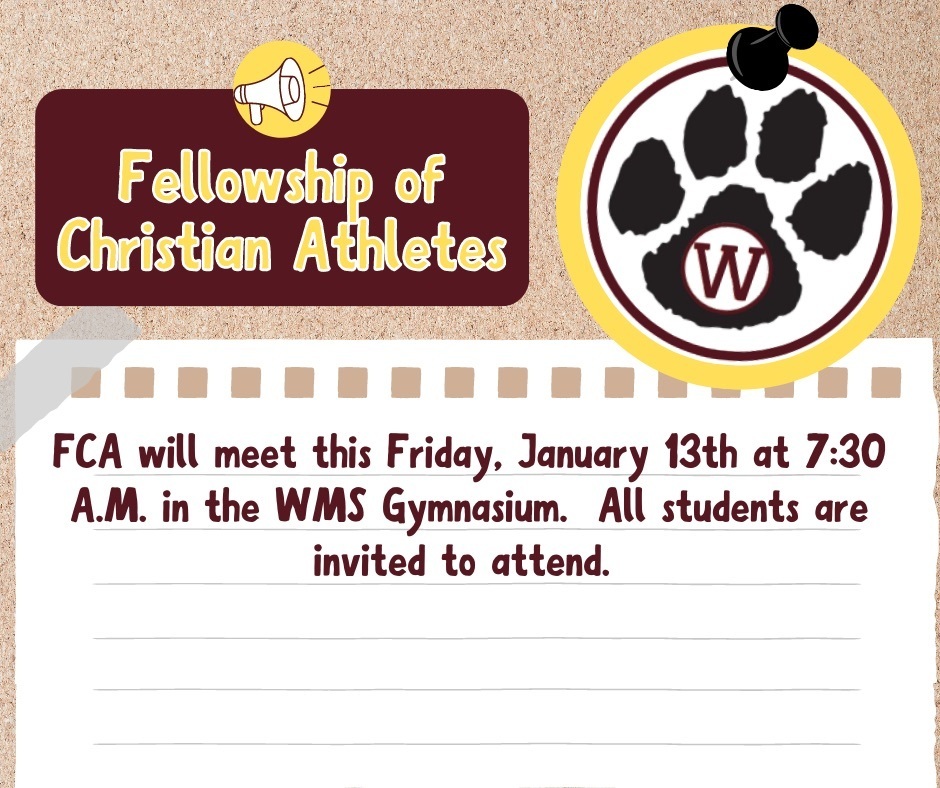 Good Evening! Students at WMS will be Benchmark Testing on Monday, Tuesday, Thursday, & Friday of this week. Students should arrive to school on time, well rested, and ready to test! Please be sure your student brings their Chromebook to school each day, FULLY CHARGED. We appreciate your help in this matter. The after school program will resume the week of 1/23. Please be sure to stay tuned to our Website and Facebook page as we update announcements there regularly. Thank you and Go Wildcats!

Happy New Year! Wright Middle School will not be holding the after school program this week. The after school program will resume on Tuesday, January 10. Go Wildcats!

[Message 2/2] Don't forget to bring your money this week to purchase a ticket! The Art Department and Cheer Team will be hosting the first annual Miss Wright Middle School Pageant this coming spring. All 6th, 7th, or 8th grade young ladies who are interested in participating need to plan to attend the interest meeting next TOMORROW, December 13th at the end of 4th period in the Art room. If you are interested in playing soccer for the WMS Soccer team this spring, please fill out the Soccer Interest Google Form ASAP. Workouts will begin after Christmas Break. Thank you and Go Wildcats!

[Message 1/2] Good Evening, WMS Students and Parents. This is a reminder that we will have a Chick-fil-A Biscuit Fundraiser tomorrow morning. Biscuits are $5 and drinks are also available for for $1 in the Car Rider Line l/Cafeteria Entrance. This sale is open to the public as well. There will be no after school program tomorrow or Thursday. However, the mentor program will be meeting on Wednesday until 5:00. This Friday, Dec. 16th, Beta Club will be the hosting a Holiday Pajama Party and School Dance. This dance will take place in the cafeteria from 6 - 8pm. Tickets are on sale in the office during your AR time or in the cafeteria before school. Tickets are $10 in advance. If you wait until Friday to purchase, ticket price increases to $15. All proceeds from this dance will go to The Abbeville Area Animal Shelter. We will be collecting supplies at the door for the Animal Shelter, and any donation item you bring will enter you into a raffle for a $25 gift card of your choice. All WMS students are welcome to attend, but behavior is a must! If you receive an office referral between now and the date of the dance, you will not be able to attend. Ticket sales are NON-REFUNDABLE.

Good Morning, WMS Students and Parents! We have just a couple of announcements for the week: 🏅Beta Club will meet this afternoon until 4:15. 🗳️ WMS will be closed TOMORROW, November 8th, for Election Day! 📓 The After School Program will resume on Thursday. Students who are signed up to attend (not signed up for Bus Transportation) will need to be picked up at 4:30. 🏀 Boys Basketball try-outs will begin tonight at WMS at 5:00. All participants MUST have a Sports Physical completed and turned in to Coach Little prior to stepping on the court. Boys wishing to try-out MUST leave school and return at 5:00. Girls try-outs will resume immediately after school today and Wednesday at AHS.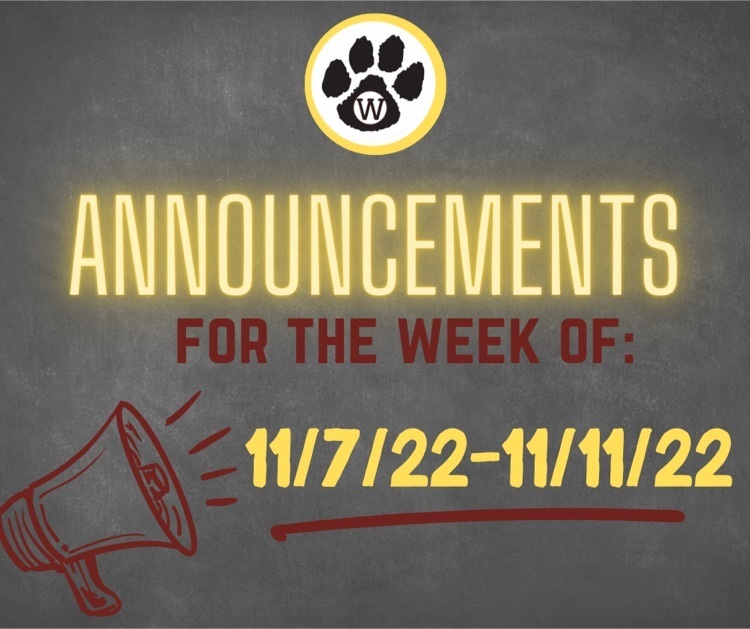 Good Evening, WMS Students and Parents! The after school program begins tomorrow. If your child has signed up to attend, we will see them tomorrow! Pickup is at 4:30 for any students that are planning to be car riders. Beta Club Induction is also tomorrow night at 6:00pm in the WMS gym. Thank you and Go Wildcats!

👋🏼 Good Evening, WMS Students and Parents! We just wanted to share a few reminders… 🐾 This week is Red Ribbon Week/Spirit Week! The themes for the days are as listed below: •Monday- Wear FALL Colors! •Tuesday- NEON Day! •Wednesday-Pink Out! •Thursday- School Spirit Day! •Friday- Costume Day 🚨Please remember all Red Ribbon/Spirit Week Apparel MUST follow the WMS Dress Code and violations will be handled accordingly. No hats or masks will be permitted. 🍂 The 2022 Fall Festival will be held at WMS tomorrow night from 5:00-7:00. Hotdog Plates ($6) and Punch Cards ($10) for activities provided will be available for purchase by CASH ONLY at the door! We hope to see you there!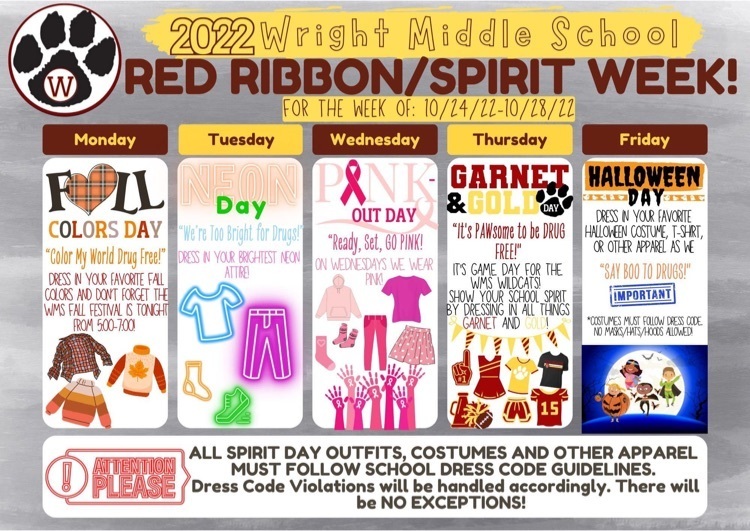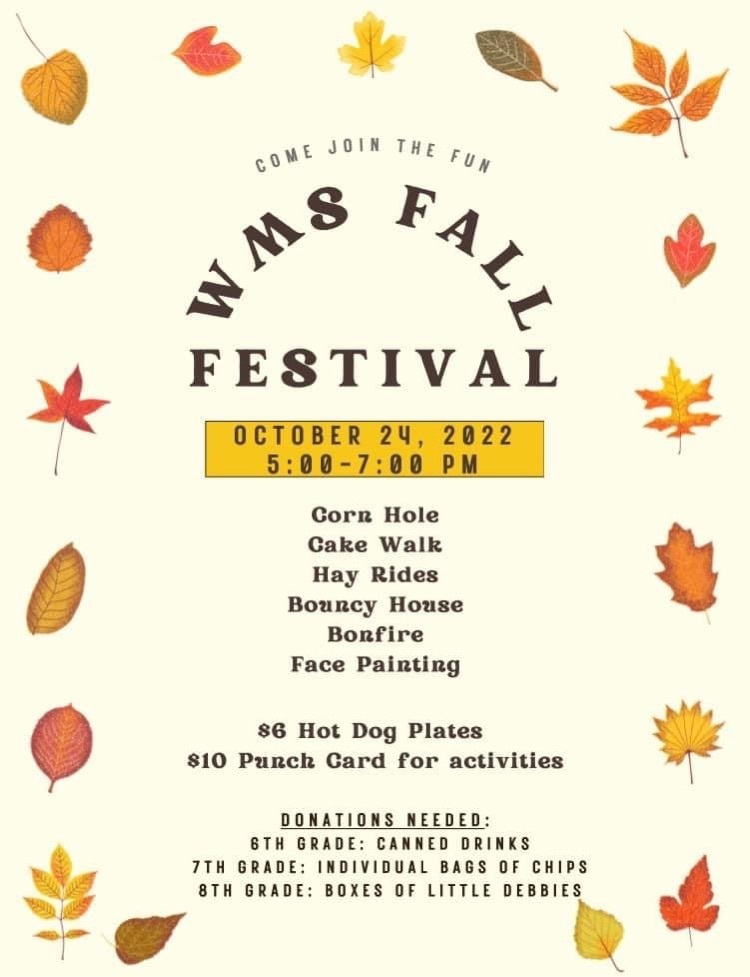 Good Evening! This is just a reminder that students do not report to school tomorrow, Wednesday, October 12th. It is a professional development day for teachers only. Thank you and Go Wildcats!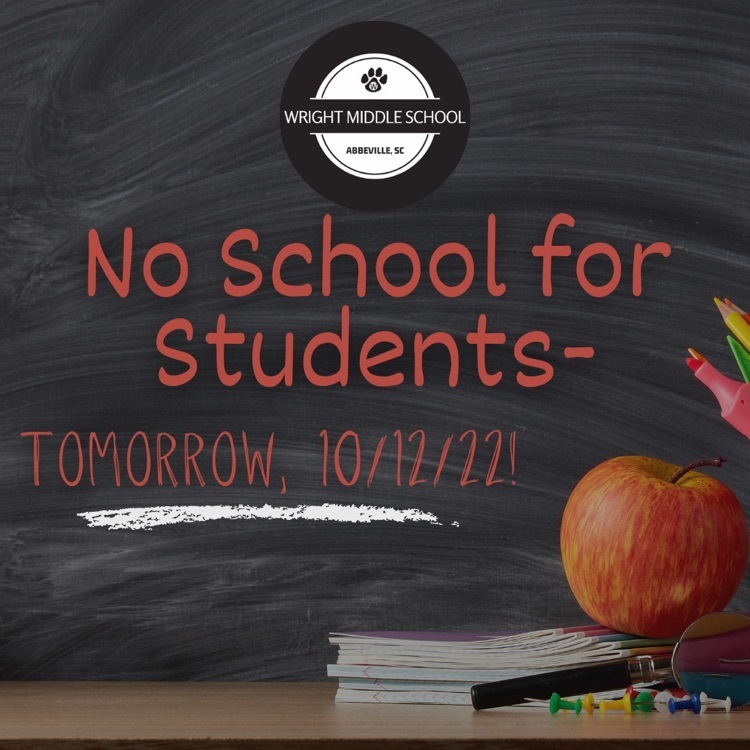 This is a reminder for students attending Intersession at WMS this week. Students should report to school at 8:00am. Breakfast will be served from 8:00-8:15. Lunch will also be served before students are dismissed for the day. Dismissal will be at 12:00 noon. This is only for students invited to and registered for Intersession. Thank you and Go Wildcats!