Good Morning! The WMS Girls and Boys Basketball Teams will be hosting Clinton tonight beginning at 5:30. Tickets will be pre-sold to parents/guardians of PLAYERS/CHEERLEADERS ONLY with a limit of 2 tickets per player until 2:30 today. All other tickets will be sold on a first come, first serve basis at the door tonight. Due to COVID regulations on capacity, the gym will be cleared immediately following the girls game and all spectators must have a ticket to re-enter for the boys game. At the end of the boys game, all spectators will be asked to return to their vehicles to wait for their player to exit the school. Thank you and GO WILDCATS!

Good Morning! All Boys & Girls Basketball games for this week have been cancelled. Also, Miss WMS Beauty Pageant applications and required entry fees are due to Mrs. Brooke McCaslan by the end of the school day on December 18th. Have a great week and Go Wildcats!

Tomorrow's State Championship game has been postponed until Friday, December 18th. Therefore, we will no longer be dismissing early tomorrow, December 4th. We will be on regular schedule with a full academic school day. Have a great day.

Wright Middle will begin dismissing at 12:30 pm this Friday, December the 4th. We wish our Abbeville Panther football team the best as they compete for the State Championship! Go Panthers!
Good evening ITECH parents and students. I hope you and your family had a safe and Happy Thanksgiving. It is time for winter MAP. Your child's teachers should have informed your child of the dates for MAP testing. Your child will need to report to WMS on Tuesday(Dec 1) and Wednesday (Dec 2) from 3:15 to 5:30 with their Chromebooks fully charged. It is important for your child to be on time. We will not have remote testing for MAP testing. Thanks for your support during this difficult school year. We will continue to work with you to help your child succeed. Have a great evening! Go Wildcats!
Good morning parents, students and staff, just a friendly reminder that food boxes will be delivered this morning at 9:00a.m. to our community in the parking lot of the old Fred's parking lot. Abbeville County School District, along with some of our FFA students from both high schools and National Honor Society students at our Career Center will help distribute the food boxes. I hope this will be a blessing for you all. Have a blessed and Happy Thanksgiving. Principal Jackson

Good Afternoon WMS Parents! Progress Reports will go home with face-to-face students tomorrow. Parents of iTech students may pick up their Progress Reports in the Main Office of WMS from 11 AM-1 PM. Just a reminder: TODAY is the last day to order from the WMS Team Store. If you would like to place an order, you may do so by logging on to BSNTEAMSPORTS.COM and enter Access Code WMS2020TS. Thank you and as always, Go Wildcats!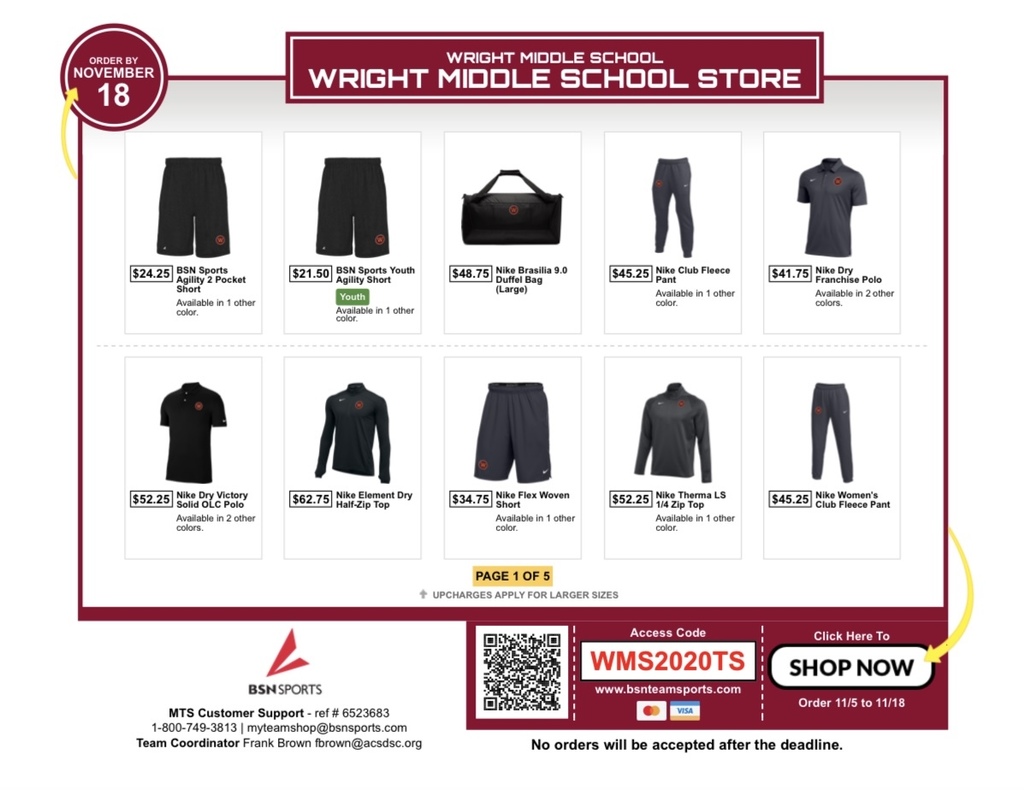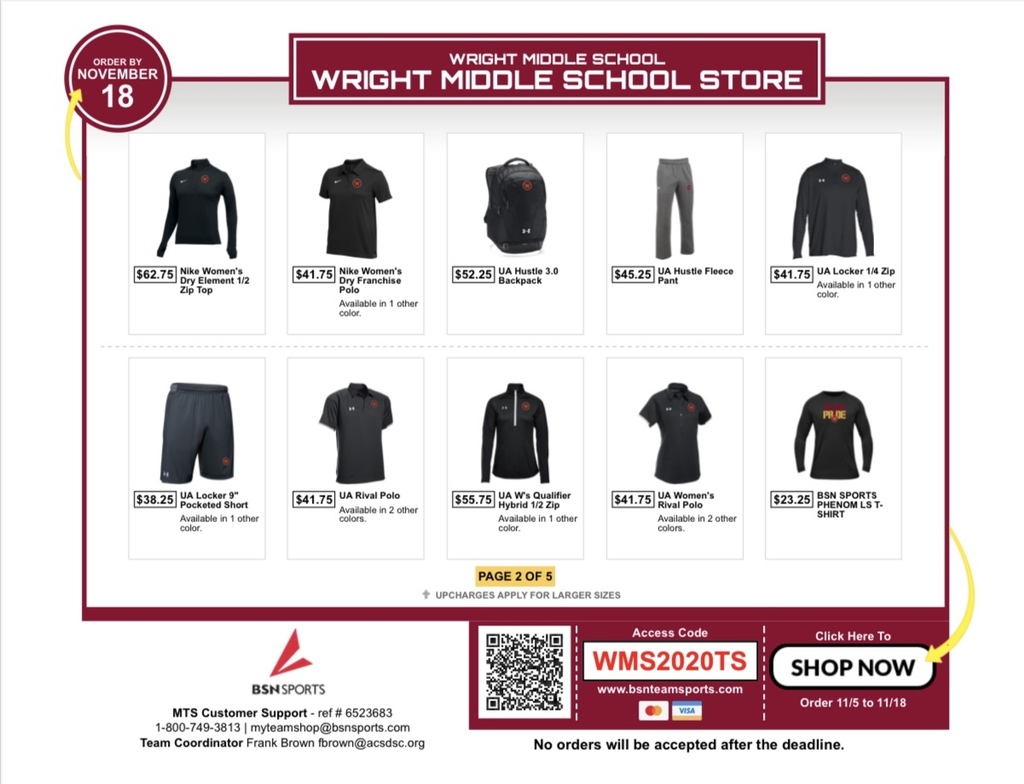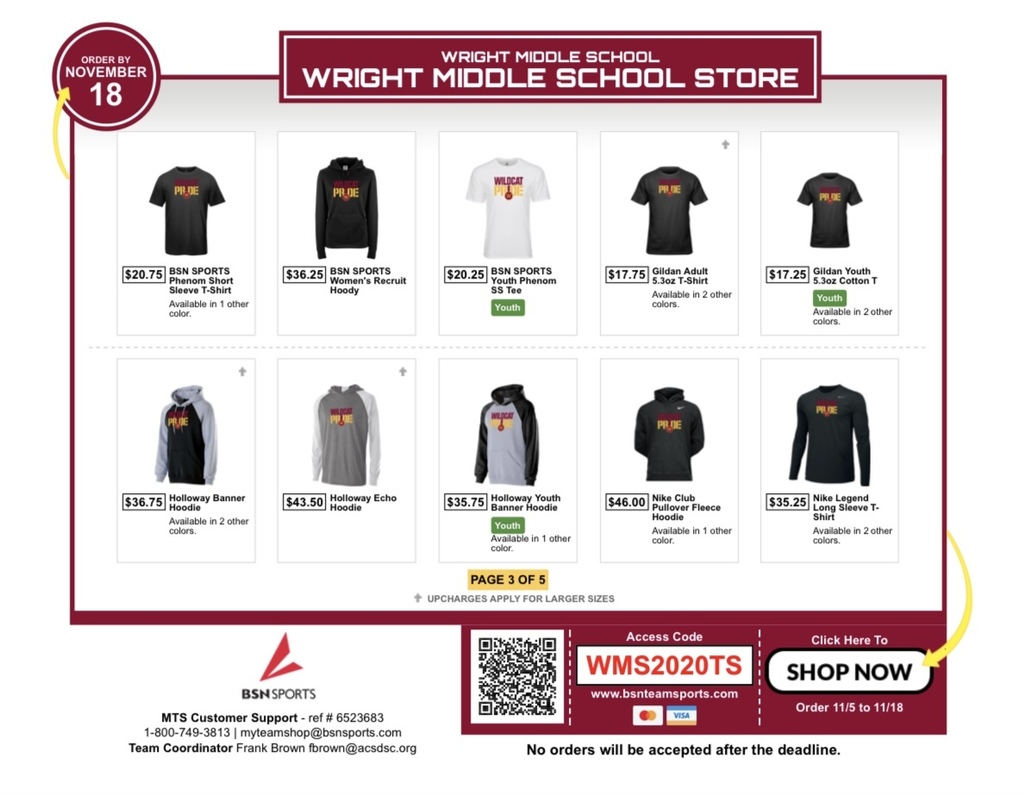 Good Morning WMS Parents! We have just a few announcements for you this morning: -Wrestling Practice has been cancelled today. -Parents, we just want to remind you that students may be dropped off at the main (covered) entrance on mornings that it is raining. -It's FUNDRAISER TIME! WMS has recently partnered with BSN to provide WMS apparel. To access our team store, simply go to BSNTEAMSPORTS.COM and enter Access Code WMS2020TS. The store will be open through November 18th. Thank you and as always, Go Wildcats!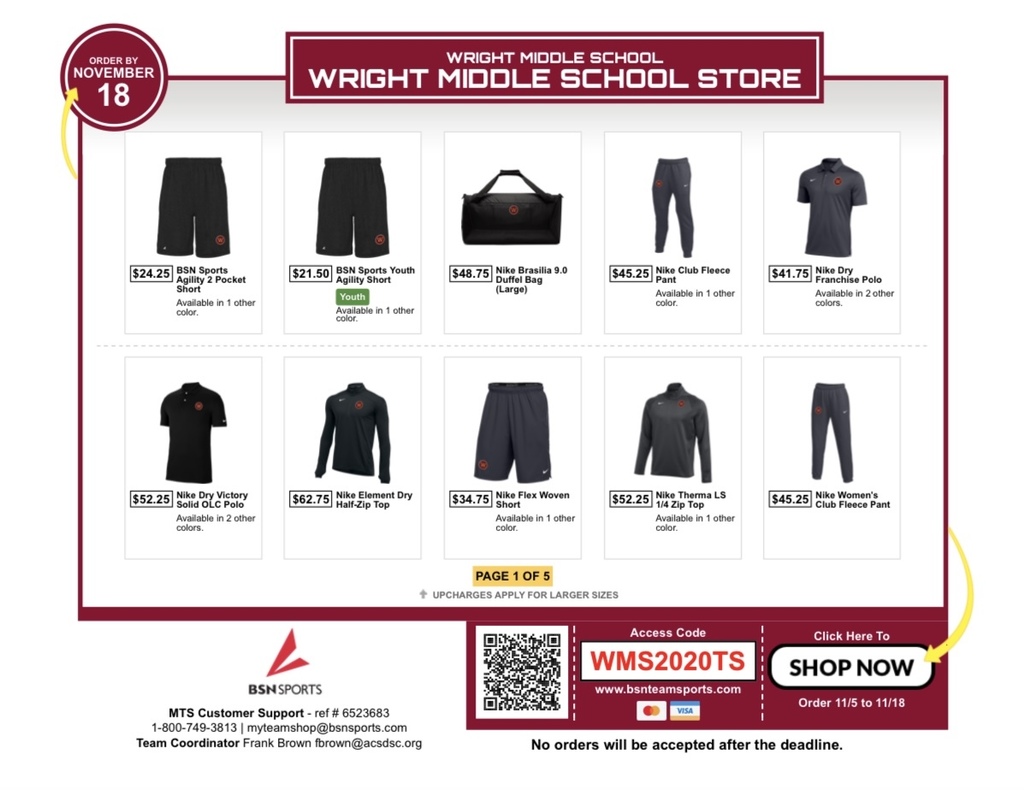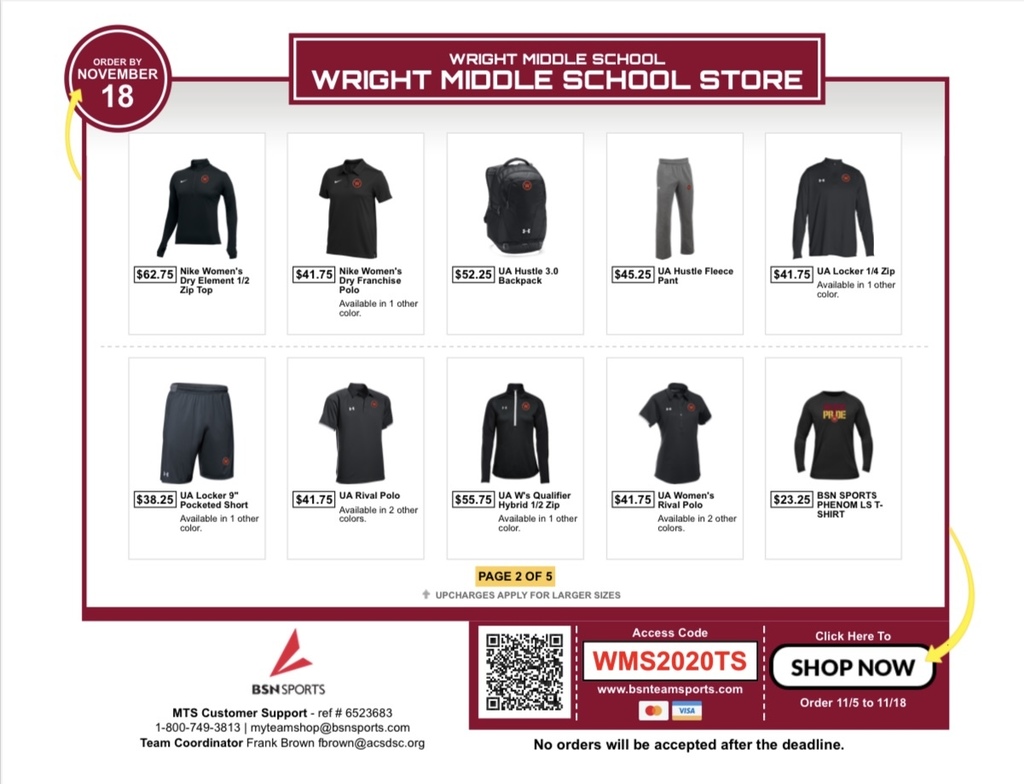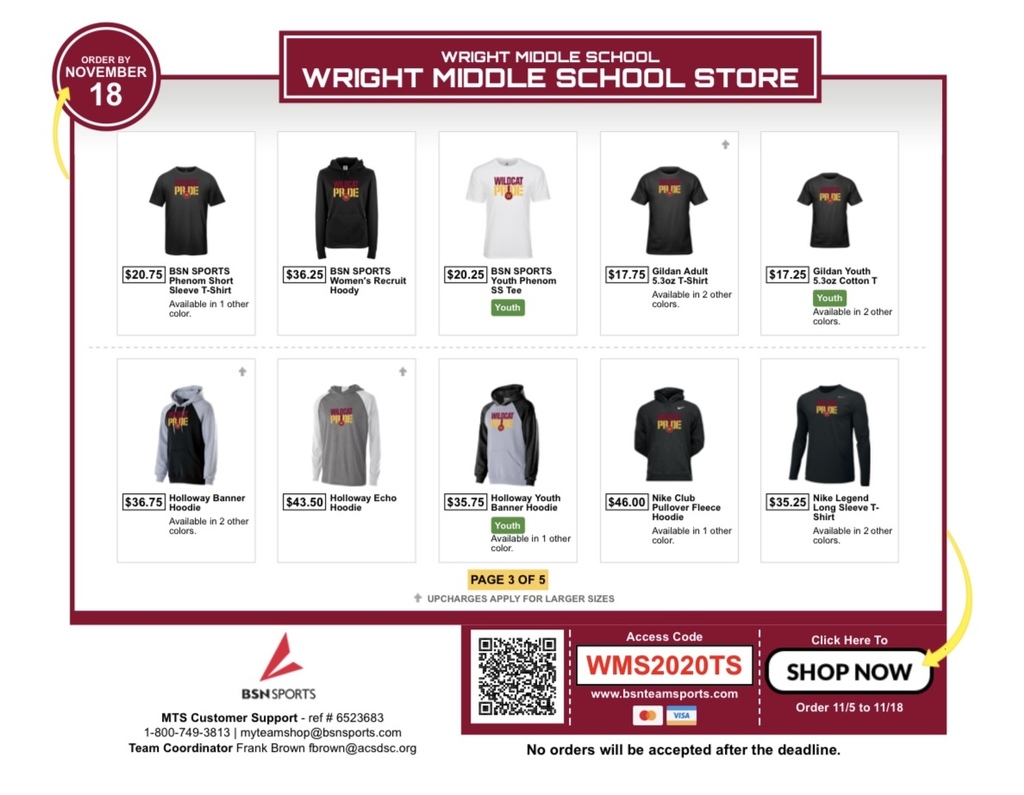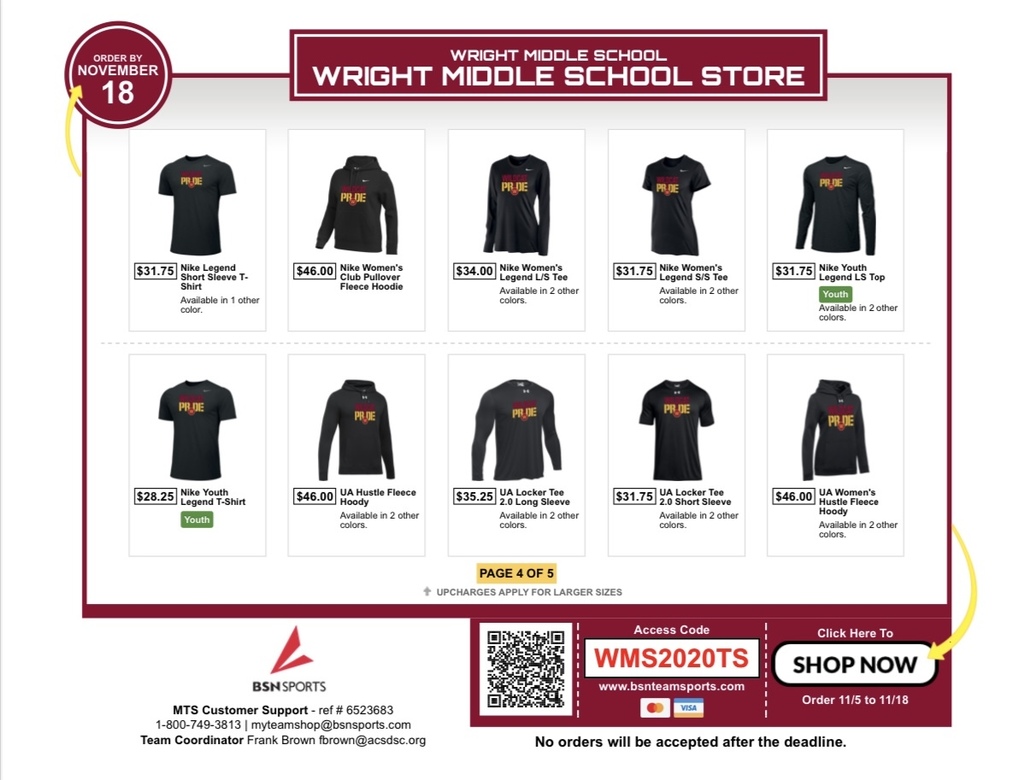 Good evening WMS parents, please make sure you fill out the survey for your child's instructional setting for the spring semester. The deadline has been extended to Friday, November 6, 2020. Please make sure to check PowerSchool weekly and make sure that your child is completing his/her work. Grades will determine retention or promotion for the next grade. Have a great evening! Go Wildcats!
Good evening 7th and 8th grade students and parents, just a friendly reminder that boys' and girls' basketball tryouts begin tomorrow. Girls' tryouts start right after school until 4:15p.m.. Boys' tryouts will start at 4:30 p.m. and end at 6:00p.m.. Parents please be on time to pick up your child. Have a great night! Go Wildcats!

Good Morning, WMS Students and Parents! Just wanted to remind you of a couple of things we have going on this week: -Make Up Pictures will be Friday, October 30th. iTech Students may report to the band room for pictures from 8:00-10:00. -"Boo-Gram" Fundraiser order forms and money are due Tomorrow, October 28th. -For any 7th & 8th Grade Students planning to try out for basketball, Sports Physicals are due to Lt. Banks no later than November 2nd. -This week's football game against Clinton Middle School has been moved to tomorrow (Wednesday), Oct 28th. Thank you and have a great day!

Good Afternoon, Parents. Tomorrow is an Early Release Day. Bus Riders will be dismissed at 10:45 and Car Riders at 11:00. Report Cards will be sent home with Face to Face Students and iTech Report Cards may be picked up from 11:30 to 3:00 in the Main Office. Report Card Pick-Up will only be for iTech Students. Any 7th or 8th Grade iTech Student wishing to try-out for basketball needs to have a Sports Physical before November 2nd. Sports Physical forms will also be available for pick-up in the main office from 11:30 to 3:00 tomorrow. Have a GREAT day and Go Wildcats!
Good afternoon parents, tomorrow your child will return to Wright Middle face to face. Please have your child here no later than 7:50a.m. We will have a meeting with students to go over rules, procedures and schedules. Students need to report to the cafeteria. If your child is a car rider, please drop them off at the cafeteria entrance. We are excited about their return. Have a great evening! Sincerely, Principal Jackson
Good morning ITECH parents, picture day is Thursday, October 8 from 10:00a.m. to 1:00 p.m. for ITECH students. Students will enter and leave through the outside band room door only. We look forward to seeing you on Thursday. Have a great day! Principal Jackson
Good morning ITECH parents, I hope all is well. Today progress reports can be picked up from 2 to 2:30 or from 3:30 to 4:00. These times are right before car rider dismissal and after car rider dismissal. Please come at one of these times. Thank you and have a great day! Principal Jackson
Good afternoon parents, there will be no football practice today. Practice will resume tomorrow after school. Thank you and have a wonderful afternoon. Principal Jackson

Parents, due to the recent announcement by State Superintendent Molly Spearman of masks now being required in every public school building, the ACSD iTECH Academy registration deadline has been extended until Monday, August 3, at midnight. Parents wishing to make any changes to an already submitted registration, please contact your child's school by Monday afternoon. Any parent in need of Internet services at home for a child enrolled in the iTECH Academy, please contact your child's school to see if you qualify for free Internet services, provided by Abbeville County School District.

Parents, if you have a rising 5K student who did not attend one of our 4K programs last year OR a child who is new to our district, please go by the school on Tuesday, July 28th, between 8:30 and 3:00 to complete the new student registration packet. Parents, if you need assistance completing the online registration form for your returning ACSD student, you may go by the child's school on Tuesday, July 28th, between 8:30 and 3:00. Computers will be available for use, and a staff member can assist with questions you may have.

The online registration portal for returning students is now open. You should be receiving another email with your snapcode information soon. If you completed registration when we originally launched it on June 16th, you will not need to re-register.

Parents, due to unforeseen circumstances, online registration has been suspended for the time being. Please stay tuned for updated information regarding online enrollment. We apologize for any inconvenience.